As promised, here is my first blog article building on material presented in the September MDMLG program. I chose Bloglines because that is what I use. Other readers will probably function much the same way.
The first thing you need to do is sign up for a Bloglines account:
1. Go to
http://www.bloglines.com
.
2. Click on the
Register
link, found at the upper right corner of the page.

3. Fill in your email address, type a password, confirm the password, and choose your time zone. Click on the
Register
button to submit your information.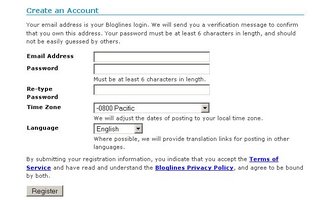 4. Reply to the confirmation email to complete the registration process.
Once you have a Bloglines account you can then add feeds. This is a relatively simple process. You may find it easiest to have two browser windows open, one with Bloglines loaded and the other to capture the urls for the feeds in which you wish to subscribe.
1. To find the url for the feed, find a blog you wish to follow and look for an orange RSS or XML button, or a link that says RSS, XML, or META.
2. Click on that link, highlight the address in the browser's address bar, and press ctrl+c keys to copy the address.
3. In the browser window that has Bloglines loaded, click the
Add
link, which can be found at the top of the left frame.

4. Make sure the cursor is in the
Blog or URL Feed:
field. Press ctrl+v to past the url into the field.

5. Click on the
subscribe
button.
6. Personalize your options (I will go into more detail about customizing Bloglines in a future blog entry).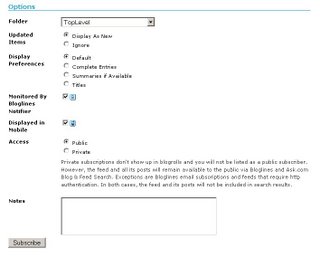 7. Click on the
subscribe
button to complete the subscription.
Now you are ready to read your RSS Feeds!